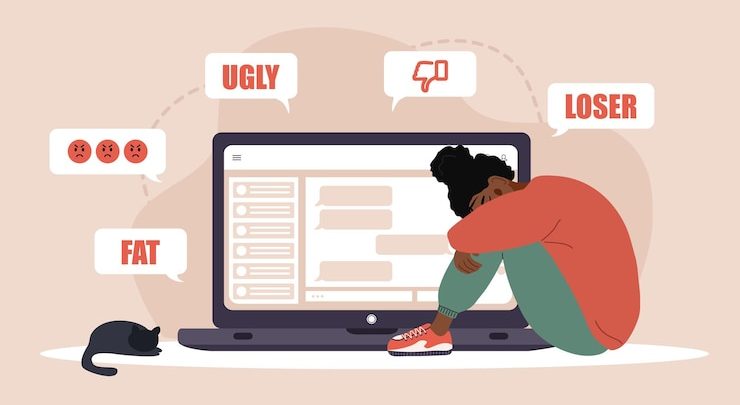 Cyber Violence Against Women
India saw a staggering 110% of growth in cyber crimes between 2018 – 2020, says the data from National Crime Records Bureau (NCRB). And if we go by the data, the majority of cybercrime victims are women. 
So, why are women targets of cyber criminals?
3 main reasons 
Trust –

Studies tell us women are usually high on enthusiasm, compassion, politeness, orderliness, and openness & this combined with

Benign online disinhibition makes them soft targets as they easily trust & share more personal information. 

Mental block for technology – "My child can use my phone better than me" While many of us moms take pride in this dialogue unaware of the fact that it is just a mental block when it comes to gadgets or any new technology, and the cyber fraudsters are very well taking advantage of same & intimidating their victims online 

Societal Stigma –

The fear of

social stigma

is very strong which makes most women stay quiet or not able to speak up against online abuse or indecent behaviour.

This gives the criminals the cue to continue & move forward. 
Common targets
Cyber criminals find it easy to trap women who are new on the internet or social media. They form friendships following which they start threatening them to meet their demands which can include extortion and sexual favours. Other forms of harassment can include cyber defamation through morphed images or negative publicity.
In many cases the harasser or the stalker is the person known to the woman, like a jilted lover or an ex-boyfriend who might think they've been treated unfairly by the woman.
What real life cases look like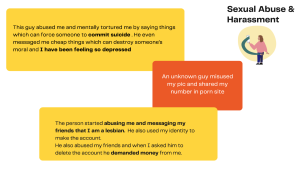 Research on cyber violence against women in India reveals how hatred towards certain religions, races and sexual orientations can make gender-based violence even more harmful.
Bullibai app, Sulli deals are examples of marginalised gender being targeted for hate speech & defamed online.
Some of the rampant Gender based violence (GBV) specifically targeting women are 
Trolling

Cyber Stalking 

Sexual Abuse 

Flashing 

Sextortion

Revenge Pornograpghy

Romance Scams

Morphing
Impact of GBV against women
Gender-based violence undermines a person's sense of self-worth and self-esteem. It affects not only physical health but also mental health and may lead to self harm, isolation, depression and suicidal attempts.
Being harassed online is a phenomenon which cannot be let go of quickly. Because what goes on the internet stays on the internet for a long time. The impact on women is traumatic, as the society or at times their own family blames them for the event. This leads to severe mental health issues of which depression may or may not be a part. In extreme cases the woman might commit suicide to overcome the trauma. The victim needs to be counselled and consoled in such cases for speedier recovery.
Where to report such incidences?
The victim can immediately report it to their local police station, report it on the national cybercrime portal www.cybercrime.gov.in.. They may also take help of cyber experts like CyberBAAP to guide them with the nitty gritties of cyber laws and counsel them on dealing with their own emotional trauma. 
---
Penned by: Palla Sahaj
Sahaj contributes to our cause by volunteering with his skills as a professional content writer. If you like his style, you may reach him at [email protected]
If our content has touched you and you feel for the cause and if you would want to VOLUNTEER WITH US, apply here.