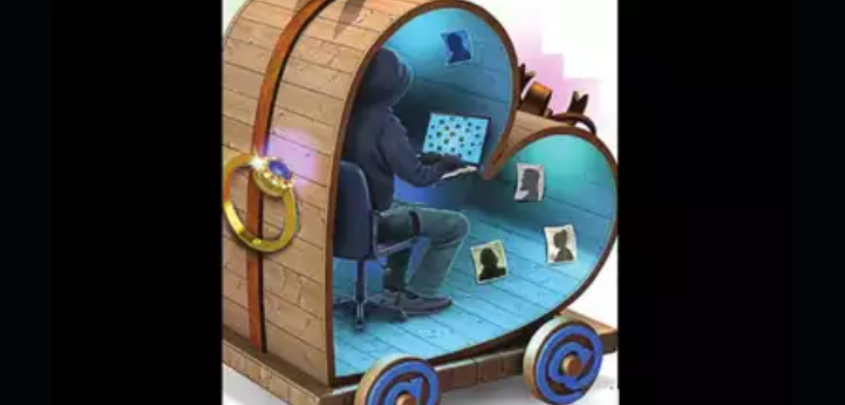 Romance is online fraudsters' new playing ground in Mumbai
Earlier this month, an elderly widower lost Rs 60 lakh to a woman he had met on a matrimonial portal after she surreptitiously filmed him performing sexual acts on a video call and blackmailed him for money. In another incident, a 51-year-old homemaker from Khar was cheated by a "foreign national" whom she had met over Facebook and with whom she had shared intimate pictures.
Why do people fall for 'romantic scams' on the internet? Mental health professionals say that while each case can be unique, common risk factors include loneliness, social anxiety, negative self-image or not being able to anticipate consequences when behind a screen.
Cybersecurity experts have also called for intermediaries to build safeguards on their platforms to curb scams of this nature.
"Social media has opened doors for people to find connections, some of them frivolous and superficial. It creates vulnerabilities among those that are already vulnerable as they may lack the know-how to spot falsification and deceit," said Anita Rego, founder of AMITA, a tele-mental health platform.
In the Khar case, the fraudster told the woman he worked as a senior officer on a ship and also ran a gym in Italy, making a good impression on her. "Scamsters often work to build trust with their targets by pretending to be someone they are not and by showering compliments or offering emotional support. Some individuals may be more susceptible to these scams if they suffer from low self-esteem or have body image issues, as they may feel that they are not worthy of real love and affection. Scamsters may use these insecurities to manipulate their targets," says Dr Milan Balakrishnan, psychiatrist and managing committee member at the Bombay Psychiatric Society.
Individuals who have had failed relationships in the real world or are unable to find a partner may turn to the internet where, they believe, they would find better options. In a recent case, a divorced man who was keen to remarry took up a premium membership of a matchmaking portal, paying extra to access all their features. He matched with a profile and after days of chatting with the woman, he was convinced that he had found 'the one'. On one occasion, she confided her fear of having to settle with someone who did not have the perfect body. To prove that he was worthy of her, the man undressed online and was filmed without his knowledge. She later started to demand money to keep the video private.
"When behind a screen, in the comforts of your safe place, an individual's guard is low. The anonymity gives him the courage to say and do things online that he would think twice before saying or doing offline," says cyber psychologist Nirali Bhatia. She adds that victims who have lived in pre-internet times often carry real world expectations, values and ideas into the virtual world where these may not hold true.
In August 2021, the parents of a 17-year-old girl approached the <!– –>police<!– –> after a youth she had befriended over Instagram threatened to kill himself if she did not undress before the camera. He filmed her, without her knowing, and used the video clip to force her to steal from home. After many reports of youngsters being targeted by predators via social media, the cyber police issued an advisory, the same year, asking parents to be vigilant about their children's social media usage.
"If you are chatting with a stranger, use tools on the internet, such as Reverse Image Search, to find out where else his picture pops up on the internet. If he is using different names on different websites, then something is definitely wrong," says cybersecurity investigator Ritesh Bhatia. Asking to borrow money under any pretext is a major red flag.
"Intermediaries such as matrimonial portals and video or photo sharing apps must use tools to identify scamsters and block them from opening new profiles on the platform. They cannot shirk their responsibility," Bhatia said.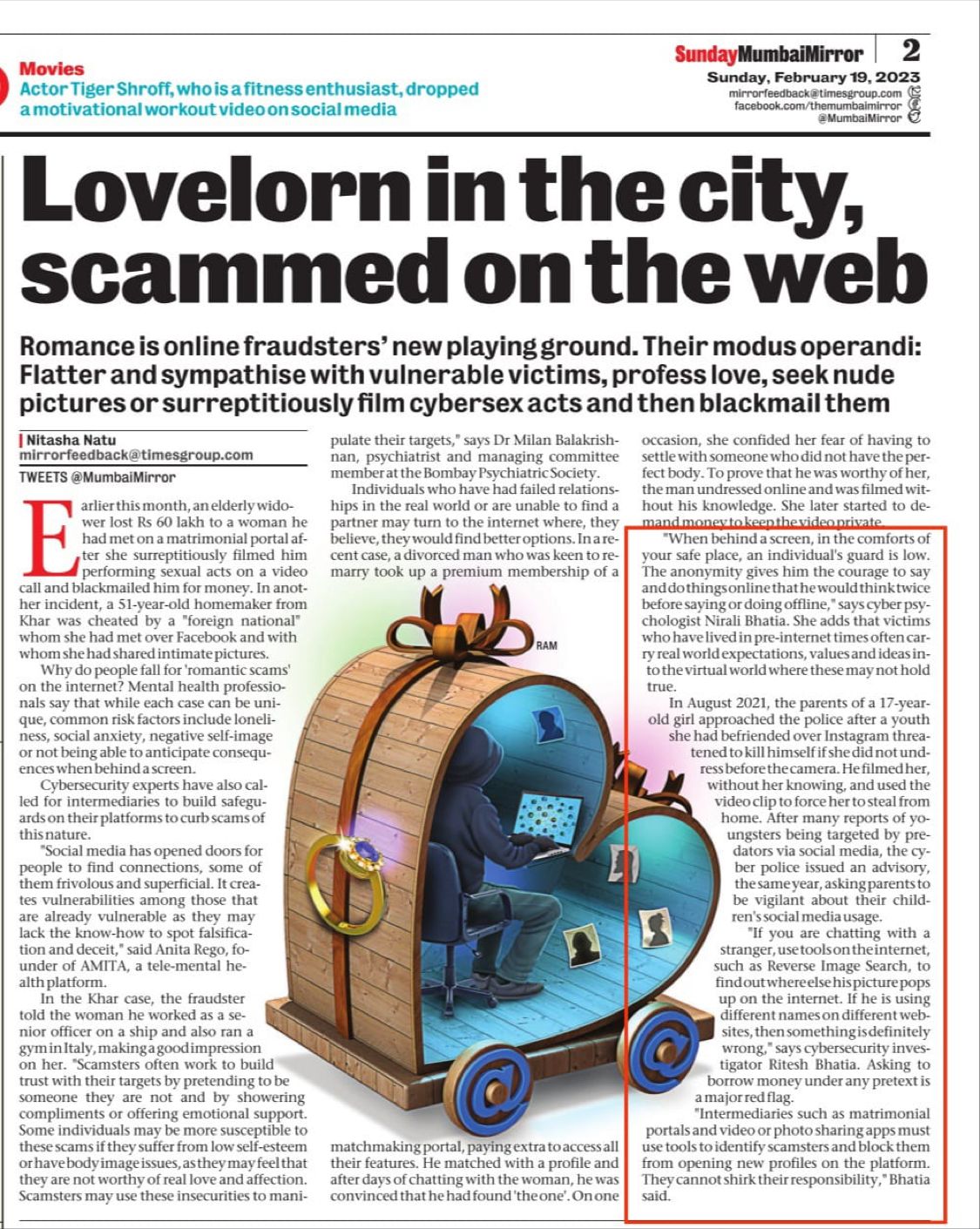 ---
Somit Sen / Mumbai Mirror / Updated: Feb 19, 2023, 10:48