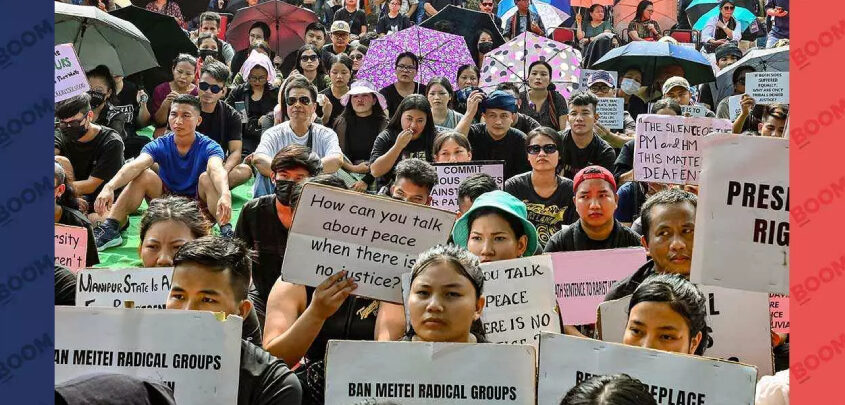 Manipur Video: What Role Can A Viral Image Play In Ensuring Justice?
Since the past few months, Manipur—the bowl-shaped valley in India's north-east region—is seeing ethnic clashes between the Meitei and Kuki communities after the state high court recommended Schedule Tribe status to the former.
According to Reuters, as of July 28, the violence has claimed the lives of 181 people, 300 injured, and approximately 54,488 internally displaced. However, according to a statement issued by 102 journalists with South Asian Women in Media (SAWM), there was "little reporting of Manipur by mainstream TV channels", and the news that did come out was a tailored narrative largely written by the dominant Meiteis who owned prominent media houses.
But everything changed post-July 19 when a May 4 video of two Kuki women (THE video) being paraded naked and being molested by a mob went viral.
This, thus begs the question: What Role Can A Viral Image Play In Ensuring Justice?
Viral photos, videos emblematic of certain events
Photojournalist Prashant Panjiar said that over the course of history, there are some photos that have come to "signify" particular events, movements, or incidents.
Giving examples, Panjiar said Eddie Adams' photo – 'Saigon Execution', showing a South Vietnamese general executing a Viet Cong captain and Associated Press (AP) photographer Nick Ut's photo of the Napalm Girl became emblematic of the Vietnamese War.
"These two images are credited as some of the reasons why the Americans lost the war at home," Panjiar added.
Cyber Psychologist and Psychotherapist Nirali Bhatia said that while the Manipur viral video exemplifies the powerful impact of viral images/videos, serving as catalysts for change and amplifying issues, it also highlights our dependence on them to recognize the gravity of certain matters.
"Unfortunately, it took the video going viral for attention to be drawn to this serious case, which had already occurred days prior, Bhatia told BOOM.
Panjiar said before the viral video, there were images in print media and later videos through electronic media. The photojournalist explained that there was a certain element of censorship, filters and fact-checking when media outlets reported on news.
"A newspaper or channel would certainly not have showcased the video in its entirety or run images of the women being paraded naked. On social media, you do not have any such filter. These videos are viral on platforms and in your WhatsApp," Panjiar added.
Viral video triggered SC intervention & national outrage
Since the video has gone viral several developments took place in quick succession. Prime Minister Narendra Modi broke his silence on the issue since the ethnic clashes began; Supreme Court took suo motu cognizance of the violence even as it was hearing pleas seeking relief; NHRC issued notice to the Manipur government; Opposition MPs took to the streets demanding a discussion in the Parliament's Monsoon Session; Lok Sabha Speaker Om Birla admitted a notice for a no-confidence motion filed by Congress leader Gaurav Gogoi; and Rajya Sabha Chairman and Vice President Jagdeep Dhankar accepted Leader of House Piyush Goyal's motion to discuss the Manipur violence in the upper house.
The Supreme Court on July 31 acknowledged that its intervention on issues pertaining to the Manipur violence was a direct result of THE viral video.
"That one video triggered a national outrage, and the immediate intervention of the court," CJI DY Chandrachud said on July 31 when it was hearing pleas by the two women seen in the video.
Until then, the Supreme Court was taking a cautious approach while hearing pleas by the Manipur Tribal Forum seeking evacuation of the tribals who had fled to CRPF camps in Manipur and ensure security in the region.
---
Ritika Jain | 1 Aug 2023